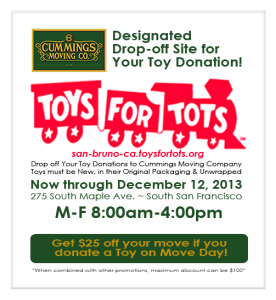 The holidays are quickly approaching and Cummings Moving Company is continuing the tradition of giving back to the community this season with our Toys For Tots holiday toy drive.
What is Toys For Tots? Toys For Tots was founded in 1995. According to the organization's website, "The mission of the U. S. Marine Corps Reserve Toys for Tots Program is to collect new, unwrapped toys during October, November and December each year, and distribute those toys as Christmas gifts to less fortunate children in the community in which the campaign is conducted." The organization aims to bring a message of hope to underprivileged children in hopes of aiding in the development of ambitious, caring and patriotic citizens.
What kinds of toys can I donate? New and unwrapped toys are always accepted. Please understand that any toys that realistically resemble weapons will not typically be accepted and will not be distributed. Furthermore, toys containing food products are discouraged.
Where & when can I drop off toys? Cummings Moving Company is proud to serve as a toy drive drop off location for the Toys For Tots organization this year. Feel free to drop off your donation of new and unwrapped toys at Cummings Moving Company Monday through Friday between the hours of 8am and 4pm. At the close of business on December 12th, 2013, we box up the toys and send them on their merry way!
What else? Feel free to call our office if you have questions or to find more information on Toys For Tots in our area by visiting http://san-bruno-ca.toysfortots.org/local-coordinator-sites/lco-sites/default.aspx. Remember, when you donate a toy on your move day, we will deduct $25 from your bill as a thank you! (See the photo for details.)
Cummings Moving Company wishes everyone a safe and happy start to their Holiday Season, and look forward to seeing you when you come by to drop off your toy! See you soon!
Cummings Moving Company | Residential & Small Business Moving & Storage | San Francisco Movers
Cummings Moving Company is a family owned and operated moving & storage company proud of its well-established reputation in San Francisco and throughout the region – reflected in their extended residential, small business and Realtor referrals. The company is a female, minority, and veteran-owned and operated moving company with over 45 years of exceptional client service – spanning the entire country and beyond. For more information about quality, stress-free moving, in San Francisco please call 415-387-4000 or from the Peninsula call 650-629-3000. Request a Free Moving Quote HERE or continue to explore our website and San Francisco Blog.
The advice on our website and blog is provided as a courtesy and is intended for informational purposes only. It is offered as-is with no warranty expressed or implied. We hope it provides you with helpful information that you can use.